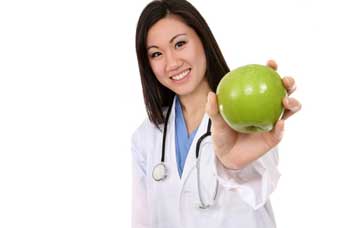 Program Details
(
Back to Programs
)
Registered Dietitians at Summerville Family Health Team provide individualized nutrition education as well as group education on various health topics. Family physicians and nurse practitioners mostly refer patients, but you may be referred by any member of the team. Please note you must be a patient rostered with Summerville to access these services.
A dietitian is a health professional who has a Bachelor's degree specializing in foods and nutrition, as well as a period of practical training in a hospital or community setting. Registered Dietitians are licensed professionals, uniquely trained to advise on diet, food and nutrition in many diverse workplaces. They play a major role in health care, industry, government and education.
Dietitians have an in-depth scientific knowledge of food and human nutrition and integrate this knowledge with that from other disciplines including health and social sciences, education, communication and management. Dietitians are the recognized food and nutrition professionals in Canada.
Examples of patient situations suitable for referral are:
Unintentional weight loss due to decreased intake, loss of appetite or unknown reasons
Gastrointestinal problems such as Celiac, Crohns, Ulcerative Colitis, Irritable Bowel Syndrome, Acid Reflux and Diverticulitis
Dyslipidemia and/or Hypertension
Diagnosed Food Sensitivities or Allergies
Pediatric Nutrition concerns such as growth and selective/picky eating
Cancer
Hypoglycemia and other conditions suitable for treatment through diet
Specific Inter-disciplinary Programs:
Let's Start, Healthy Heart
Craving Change
Food FUNdamentals