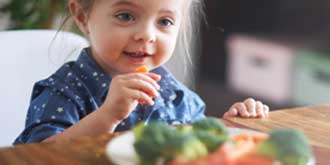 FOOD FUNdamentals

Facilitated by a dietitian, registered nurse, and health promoter, these interactive 1.5 hour education sessions are designed to prevent picky-eating before it begins through emphasizing proper nutrition, safety, proper division of responsibility, advice on advancing solids, and creating the right eating environment. Each group is designed to stand alone and siblings and babies are welcome.
Suitable for: Food FUNdamentals 1 – caregivers of infants 4 – 9 months, Food FUNdamentals 2 – caregivers of infants 10 - 24 months.
Frequency: On demand up to two times a month (possibly every second Friday).